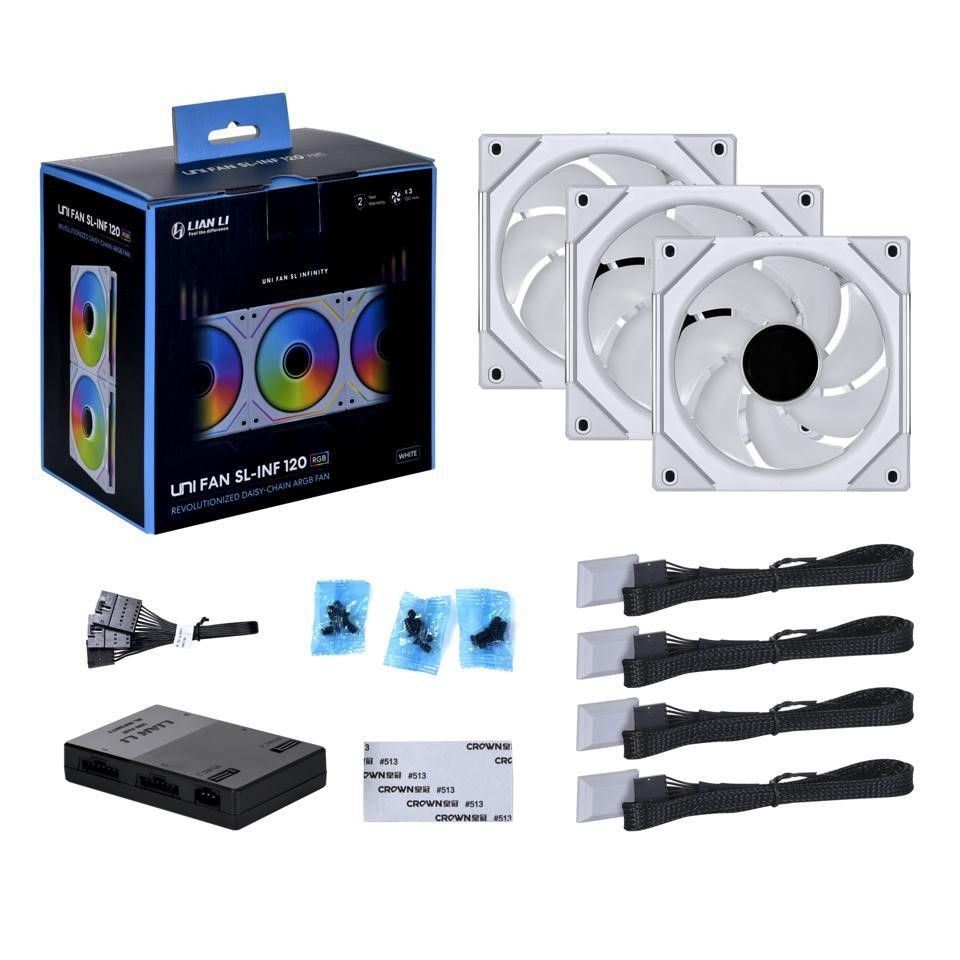 UNI FAN SL-INFINITY
Software controlled fan speed/ LED lighting
Only one cable is required for a cluster of fans
Embedded magnetic Fluid Dynamic Bearing to provide stability, durability, and longevity
40 LEDs in each fan
Quick PIN connection to provide ease of installation
Low noise level at high RPM
Infinity mirror look all around

Infinity Mirror ARGB Fan
Introducing a new look to PC fans and a new level of installation simplicity and light effect customizability.
INFINITY MIRROR FAN
A combination of the original UNI FAN SL and AL with a touch of infinity mirror, the SL-Infinity fans glow clear with multi-layer effects from any visible angle.
CENTERED INFINITY MIRROR ARGB
The circular-shaped infinity mirror at the center of the fan is tuned to have multiple layers spaced 0.5mm apart.
SIDE FRAME ARGB
Following the iconic angular lighting style of SL fans, the SL-Infinity fans have 2 thin LED strips on both sides of the fan blade.
ALUMINUM TRIM SURROUNDED INFINITY MIRROR
Surrounding aluminum trims are located on both sides of the frame. The geometric shape of the infinity mirror follows the front ARGB lighting strip in a top and bottom pattern that creates a 3D indented look.
IMPROVED PERFORMANCE
The SL-Infinity 120 features a 10% performance optimization compared to the SL120 which results in better airflow (61.3 CFM), higher static pressure (2.66 mmH2O), and a larger range of fan speed (0, 200 ~ 2100RPM) at lower noise levels (29 dB(A)).
MODEL  UF-SLIN120-3W
COLOR White
NUMBER OF FANS  3
CONTROLLER Yes
CONNECTOR TYPE 4 × 7-PIN 4 × 7-PIN
FAN DIMENSION 120 X 122.1 X 25 (mm)
RATED VOLTAGE DC 12V (FAN) & 5V (LED)
FAN SPEED 0,200~2100 RPM
MAX. AIR PRESSURE 2.66 mmH2O (Maximum)
MAX. AIRFLOW 61.3 CFM (Maximum)
ACOUSTIC NOISE 29 dB(A) Max
LOCKED CURRENT ≧50mA
BEARING TYPE Fluid Dynamic Bearing (FDB)
START-UP VOLTAGE DC ≦6V
INPUT CURRENT 180mA (FAN) /600mA (LED)
INPUT POWER 5.16W
WARRANTY 2 years