The A4-H2O is an 11-liter small form factor case, a collaboration project with DAN Cases. Based on the original DAN A4-SFX case sandwich layout concept, the A4-H2O continues the minimalist and compact form factor with improved hardware compatibility (including AIO water cooling) and simplifies installation.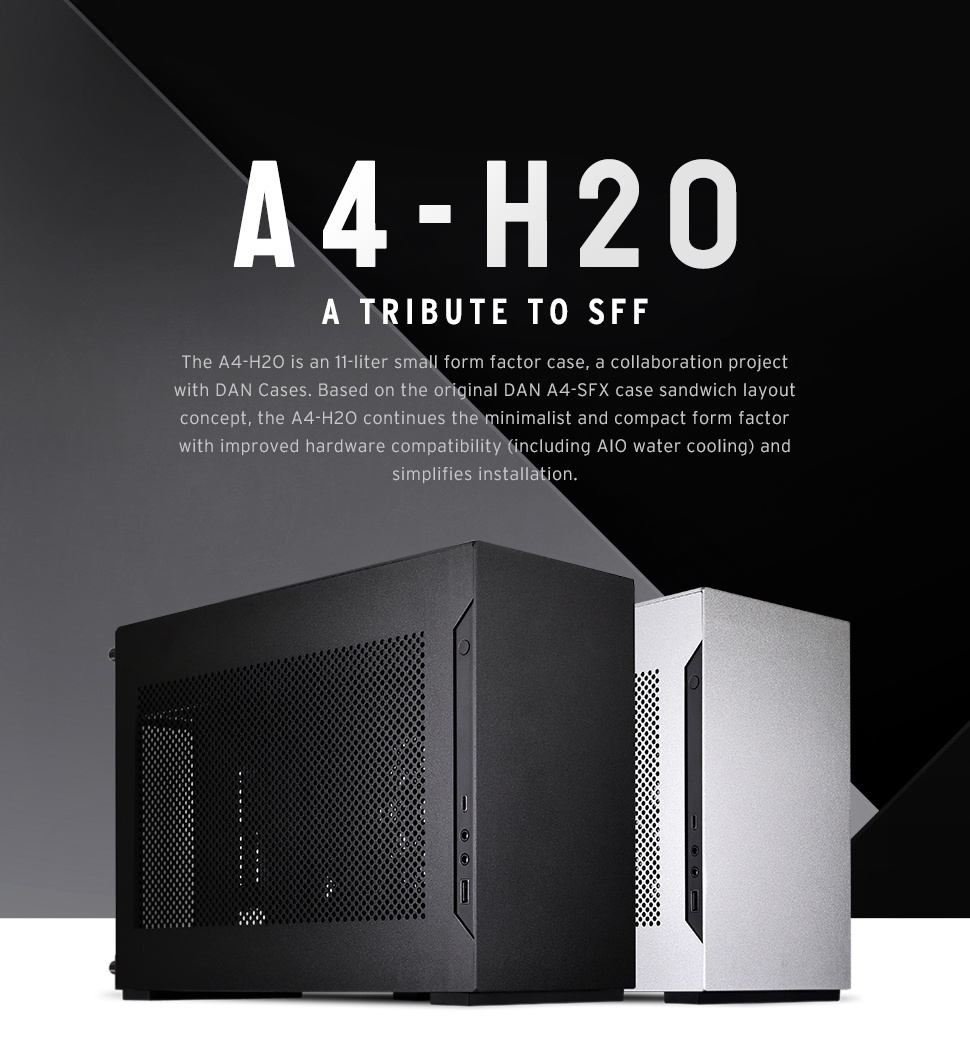 11-Liter Form Factor
At only 11 liters, the A4-H2O is one of the smallest cases on the market that supports triple-slot GPU and clearance for 240 AIO water cooling.
Sandwich Layout Design
The sandwich layout allows for a triple-slot GPU to fit into the compact size case. Matched with a PCIe Gen. 3 or Gen. 4 riser cable, the GPU is located behind the motherboard and leaves room for a 240mm radiator at the top of the case. Bottom, side, and top mesh panels ensure that the components get cooled directly with fresh air intake.
Fully Removable Panels
Front, side, top and bottom panels can all be removed easily to provide easier access for installation and/or cable management.
IO and Power
Located on the left side of the case inside a recessed cutout, the front IO includes a USB 3.1 Type-C (internal Key-A) port, a Mic port, an HD-Audio port, and a USB 3.0 Type-A port (internal 19pin). At the top of the recess is a premium-grade power button.
Optimized airflow for 2 slots GPUs
The extra standoffs helps pushing a two slot GPU toward the side panel in order to exhaust or intake fresh air directly out of the chassis.
A Dan Cases
Collaboration
The A4-H2O, is an update to the popular DAN A4-SFX case with added water cooling support. This is a special collaboration with Daniel Hansen from Dan Cases. The A4-H2O is manufactured and sold by LIAN LI.
DIMENSION (D) 326mm x (W) 140mm x (H) 244mm
CAPACITY 11L
MATERIALS Aluminum Exterior
SPCC Steel Interior
MOTHERBOARD SUPPORT Mini-ITX
FAN SUPPORT Top:2x 120mm
RADIATOR SUPPORT Top:1x 240mm (55mm. max total thickness with fans)
PSU SUPPORT SFX, SFX-L
GPU LENGTH CLEARANCE Max 322mm
CPU COOLER CLEARANCE Max 55mm
DRIVE Support 1x 2.5" SSD
EXPANSION SLOT 3
I/O PORTS 1x USB 3.0 TYPE-A, 1x USB 3.1 TYPE-C, 1x Mic, 1x HD Audio.