Portable Plug-and-play Hi-res USB DAC with Auto Mute and Two-way Noise Cancellation via SmartComms Kit for Conference Calls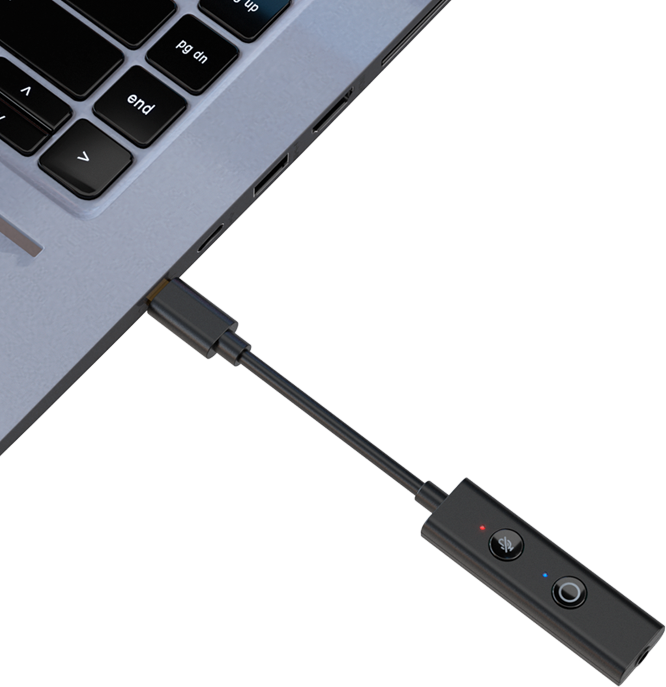 Super Easy Setup
Plug it in, download, and go. The Sound Blaster PLAY! 4 lets you communicate smarter in 3 easy steps:
Plug in the Sound Blaster PLAY! 4 to your Windows PC via the USB-C port.
If your computer only has USB-A port, don't worry, we have also included a USB-C to USB-A converter for your use.
Download and install the Creative app onto your Windows PC.
For new users, start by creating an account with us.
For any existing users, you may sign in via any accounts you have with us, like your Creative store account, or other software accounts (e.g., Sound Blaster Command or Sound Blaster Connect).
Go to the SmartComms Kit module and make sure that it is switched on.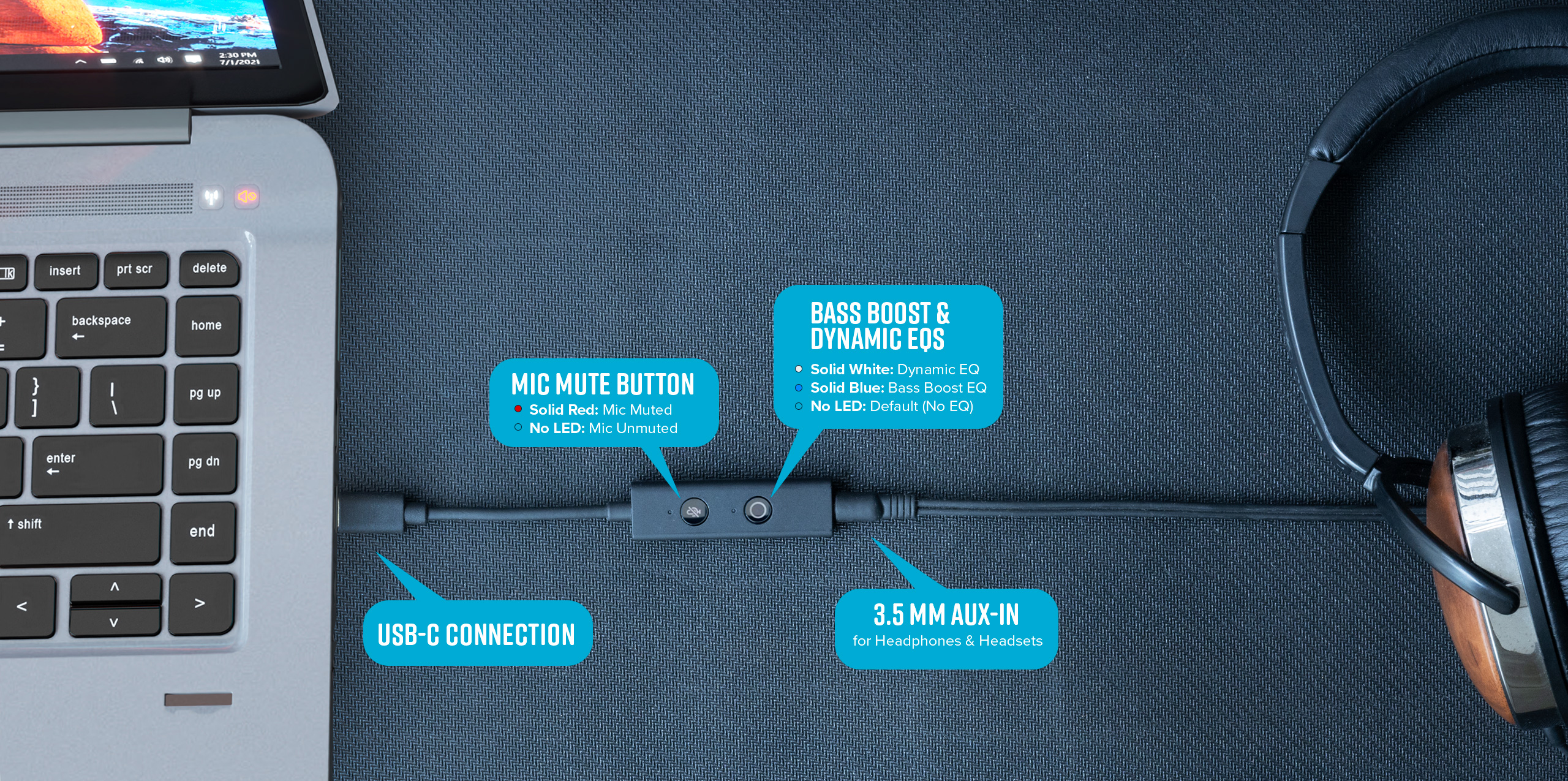 Make Your Audio Go Further
On top of all the software features, Sound Blaster PLAY! 4 also comes with an EQ button with 2 sound modes—Dynamic and Bass Boost—that works great with any type of content—music, movies, and even games!
Better Than Your Default Audio
On the back of everything is what we do best—audio quality. Powered by high-resolution audio with a 192 kHz / 24-bit DAC and delivering clean audio clarity at 110 dB, you will never go back to the default audio on your PC again. This instant audio upgrade is also extremely lightweight (8.3g / 0.29 oz) and super portable, so you can carry it around with you everywhere you go.
Specifications
Weight
Main Unit: 8.3g / 0.29 oz, USB-C to USB-A Converter: 4g / 0.1 oz
Dimensions
Main Unit : 138 x 16 x 8.2 mm / 5.43 x 0.63 x 0.32 inches, USB-C to USB-A Converter : 23.5 x 13.5 x 6.0 mm / 0.93 x 0.53 x 0.24 inches
Dynamic Range (DNR)
110 dB
Audio Technology
SmartComms Kit, CrystalVoice, BlasterX Acoustic Engine
Signal-to-Noise Ratio (SNR)
110 dB
Max. Playback Quality
PCM 16-bit, 44.1, 48.0, 88.2, 96.0. 192.0 kHz, PCM 24-bit, 44.1, 48.0, 88.2, 96.0. 192.0 kHz
Playback Resolution
PCM 16-bit, 44.1, 48.0, 88.2, 96.0. 192.0 kHz, PCM 24-bit, 44.1, 48.0, 88.2, 96.0. 192.0 kHz
Recording Resolution
Mic-in: Mono, 16-bit, 44.1, 48.0 kHz
Mic-in: Mono, 24-bit, 44.1, 48.0 kHz
Platform
USB 2.0, USB 3.0, USB-C
Connectivity Options (Main)
1 x ⅛″ Headphone-out Jack (4-pole, CTIA)
Headphone Amp
Supported Headphone Impedance: 16–150Ω
Max Channel Output
Stereo
Audio Technologies
CrystalVoice
Supported Operating Systems
macOS X® 10.14 and above, Windows® 10 Ver 1703
Audio Fidelity
Up to 24-bit / 192 kHz
DAC
Dynamic Range (Stereo): 110 dB
Power
USB-C, USB Bus Powered
Recommended Usage
Online Meetings
Conference Calls
Video Calls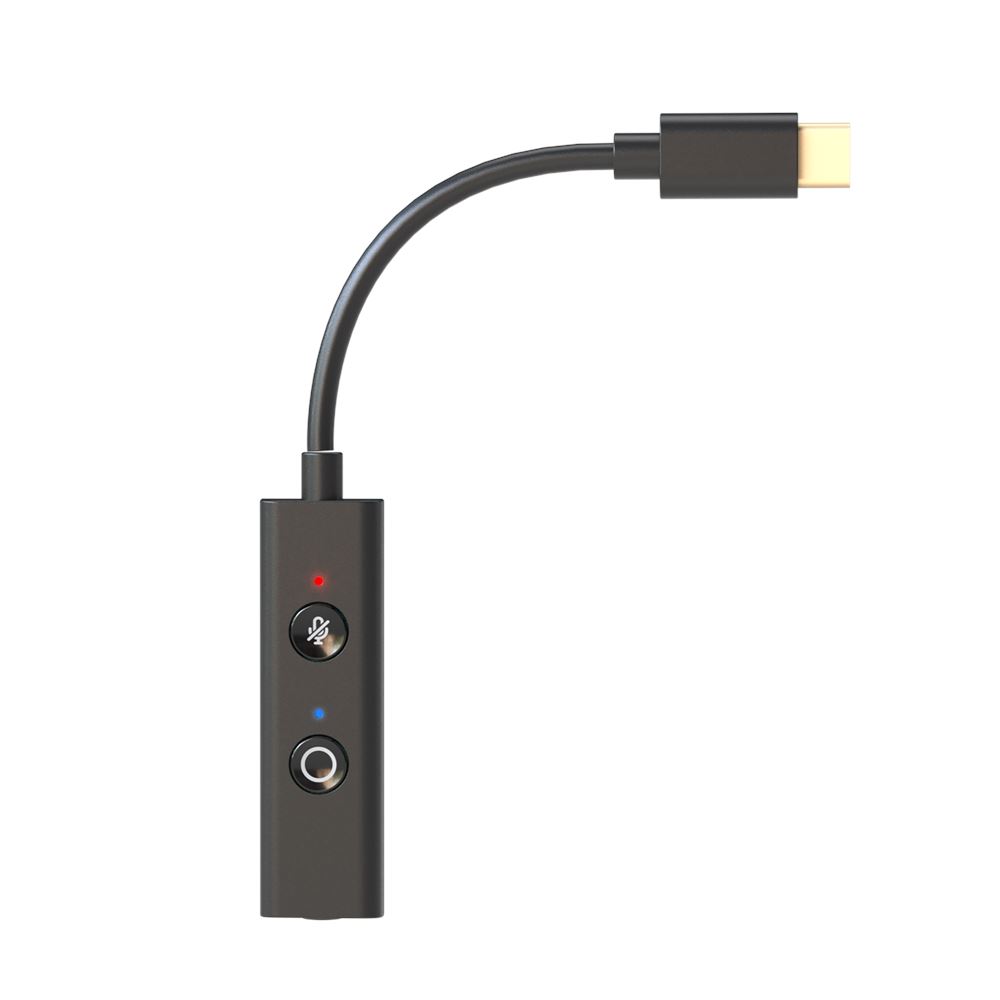 System Requirements
Windows® OS
Intel® Core™i3 or AMD® equivalent processor
Intel, AMD, or 100% compatible motherboard
Microsoft® Windows 10 32 / 64-bit or higher
>1 GB RAM
>600 MB of free hard disk space
USB 2.0 / USB 3.0 port
macOS®
macOS X® 10.14 or higher
>1 GB RAM
USB 2.0 / USB 3.0 port
PS4™
Firmware Version 6.0 or later
Available USB port
PS5™
Firmware Version 20.02-2.26.00.00-00.00.00.0.1 or later
Available USB port
Nintendo Switch™
Switch OS 5.0 or later
Available USB port (in docking mode)
Voice communication is title-dependent
Android
Android OS Version 8.0 or later
Available USB-C port
Support audio streaming and mic path via USB-C port
IPadOS® / iOS Devices
iPad Pro (2018 models onwards)
iPadOS 13 or later
Available USB-C port
Support audio streaming and mic path via USB-C port
Package Contents
Sound Blaster PLAY! 4
USB-C to USB-A Converter
SmartComms Kit Guide
Quick Start Leaflet
Warranty Leaflet
Warranty
1-year Limited Hardware Warranty